American Bike Patrol Services has been providing training, patrol bikes, and other equipment to law enforcement and security agencies since the early 1990's. Our courses are taught by POST (Peace Officer Standards and Training) certified instructors who have been involved with bike patrol since its inception in Southern California. We offer onsite classes with a minimum amount of students for additional convenience. Departments can combine students from other agencies at their discretion. Each bike patrol training course is tailored to the individual needs of your agency. Please contact us for details and set-up arrangements — it's simple and easy! Either email or call us at (800) 488-9690 and let us know how many students will be attending the desired bike patrol training course. Read on and explore the rest of our website to learn more about the history and advantages of bicycle patrol, and how American Bike Patrol Services can help you and your department.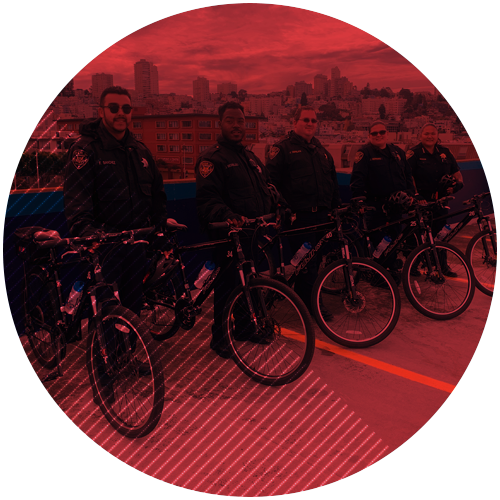 Security Bike Patrol Training
At American Bike Patrol Services, we tailor all of our courses to the specific needs of your department. We understand you may have special considerations, so we don't just offer cookie-cutter training courses. In addition to providing all necessary supplies, we are generally able to travel to your location for the course — contact us to learn more! The course will be specific to the needs of a security department, and will consist of several sections to provide your trainees with all the information they need to know. Our courses feature an introduction section with a briefing and pre-test, and a training section of all the necessary bike patrol techniques and safety procedures. They conclude with evaluations and a final test, which will result in a certification upon completion.
Police Bike Patrol Training
We have worked with many police departments over the years, and bring you the knowledge and experience to keep your officers fully up-to-date and prepared for the most effective bike patrol possible. As with the security bike patrol training course, officers will be fully trained in basic skills, riding, and safety techniques, and all other necessary information that is specific to police bike patrol training. Some of the skills taught in the course include:

•Mounting and dismounting
•Emergency stops
•Slow maneuvering
•Curb hopping
•Traffic safety
•Nutrition
•Basic maintenance
•Bike positioning
•Other skills
For bike patrol training you can trust, go with American Bike Patrol Services. We have worked with countless security departments, police departments, and police academies over the years, and provide training you can trust.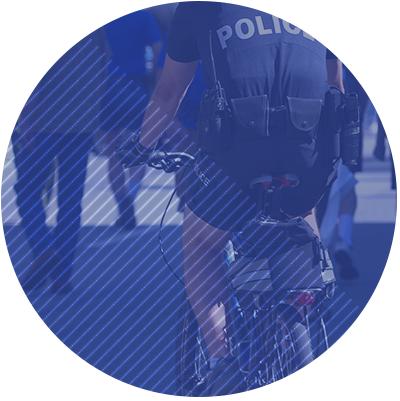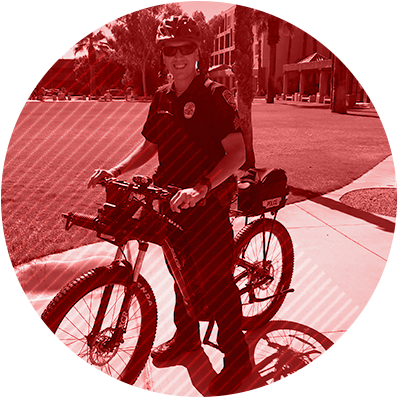 eBike Patrol Training
In addition to offering security and police bike patrol training, we offer training for modern electric bikes, or eBikes. A relatively new implementation into bike patrol units, eBikes can be an invaluable asset to your department, offering increased speed and ease of mobility. In our eBike courses, riders will learn the same basic skills taught in other courses, in addition to eBike specific knowledge such as:

•Operational procedure
•eBike laws
•Speed control
•Throttling
•Maintenance
•Other basic riding
skills and eBike-specific skills With our eBike patrol training course, we can take your department into the future!
Trikke Patrol Training
At American Bike Patrol Services, we keep up with modern solutions in bike patrol, and we are able to instruct courses concerning Trikke mobility vehicles. These courses offer all the basic riding and maintenance skills required for efficient operation and patrol, and also cover techniques specific to each vehicle. If your department is looking to add mobility vehicles or train new riders, we can assist you with all your training needs. Why choose Trikkes for your department? Trikkes are notable due to their design which allows the rider to stand and carve for forward momentum, providing a patrol experience that is comfortable and easy on the body, maneuverable, and safe. Working either independently or in conjunction with patrol bikes, these mobility vehicles can be an exceptionally useful addition to your department.
Contact Us To Schedule Your Training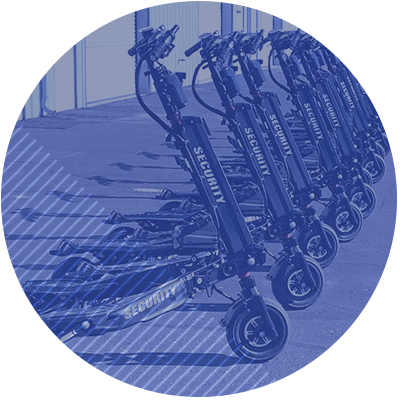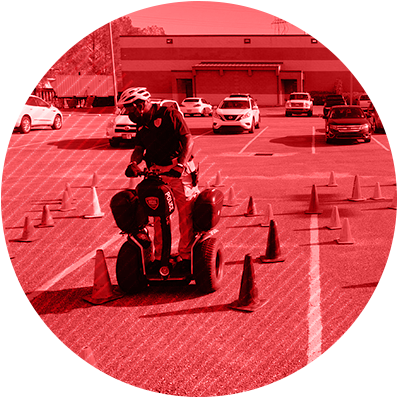 Segway Patrol Training
Some security teams prefer to use segways for their day-to-day patrol operations. These vehicles are a great choice because they are very mobile and operations can be learned fairly quickly. Our team wants to help your team become the most efficient security force that it can be, so we offer a comprehensive training and certification for segway usage! During the American Bike Patrol Services segway training course, you and your team will partake in a 4-part course. This includes: Introduction with an overview and learning the objectives of the course Training riders with techniques, weight distribution, safety, braking, and more Patrol techniques like slow riding, reverse turns, emergency braking, and safety Course overview that includes a written and practical test and certifications
Sign Up For Segway Training
Visit Our Online Bike Patrol Store
American Bike Patrol Services can handle every step of the process for your bike patrol needs. In addition to our bike patrol training and maintenance services, you can visit our online store to purchase anything you need to outfit your department and get them ready for successful bike patrol. We sell complete patrol bikes and mobility vehicles, as well as any bike patrol accessories you can think of. No matter your needs, visit our store and see how we can help you!
Bike Patrol History
The modern idea of policing has been mostly standard practice since the late 19th century, and police bikes have been an aspect for the majority of that history. In some form or another, police bikes have been involved in patrol programs since the late 1800s — so, even as iconic as the patrol car is to American policing, it hasn't been around for as long as the police bicycle!

The earliest recorded uses of bicycles in policing arrived in the 1860s, and as technology and production quality improved over the next few decades, bicycles became standard in policing. Agencies soon realized the potential for more widespread coverage and greater speeds allowed by bike patrol, and police bicycles became the standard around the turn of the century, not just in America but around the world.

As modern transportation evolved, the use of motorcycles and automobiles in police work became standard in the early 20th century. This remained the case throughout the mid part of the century, but a changing America required a changing approach to policing. Patrol cars offered the advantage of speed and the ability to patrol large zones of a city, at the downfall of isolating officers from the citizens around them. This led to a resurgence of bike patrol, after departments realized the need for policing that allowed closer contact with the community. Bike patrol also offered the benefits of community outreach, stealth, and ease of mobility through tight spaces, all while still covering a large area. Bike patrol became widespread for use in modern cities, campuses, and other urban areas, and has remained as a standard in modern patrol practices.

Today, American Bike Patrol Services carries on the long history and legacy of bike patrol. We are able to train and supply equipment for the specific needs of your department.. We've been involved in the industry since the early 1990s, and can meet all your qualifications to provide the best in bike patrol training, outfitting, and maintenance.
Why Bike Patrol?
The most effective policing and security occurs when multiple units come together to form an overarching strategy. Within a police force, different units can work together to cover as much ground as possible. This is done with patrol cars, beat officers, and, of course, police bikes. Each of these positions have their own distinct advantages, providing the best total coverage when they all function as a whole. Bike patrol offers a wide range of positive attributes — read on to learn about just a few of them.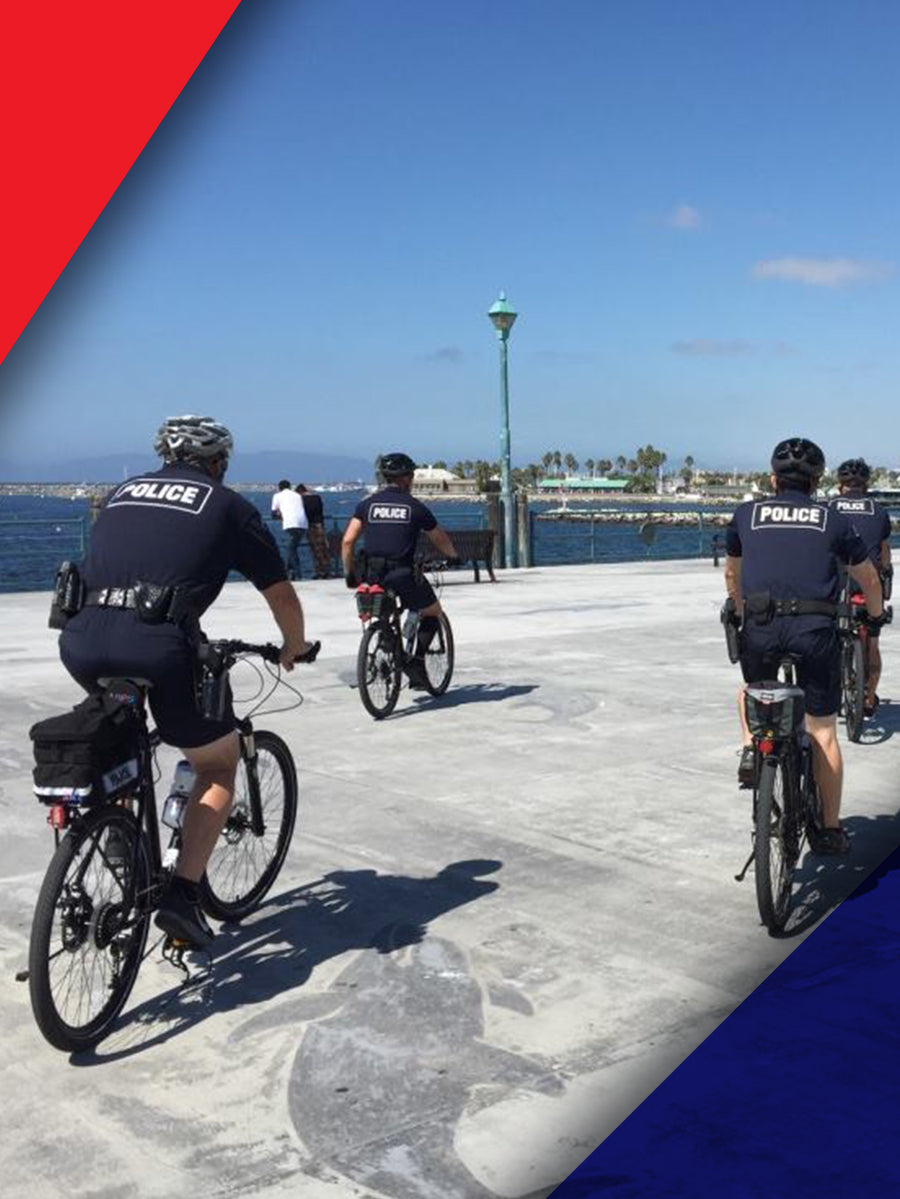 When and Where Is Bike Patrol Useful?
Cities
Bike patrol offers a distinct advantage when used in cities to navigate congestion and gridlock. Rather than officers remaining stuck in their cars, they are able to navigate through traffic and remain on constant patrol, while also having more direct contact with the community.

Campuses
College campuses are an ideal area to use a bike patrol team, and campuses are generally patrolled by campus police agencies or security departments. Bike patrol is an ideal solution to improve safety on campuses due to the unique advantages inherent to this type of policing. Officers are able to navigate all areas of a campus, including roads, sidewalks, and plazas, putting themselves into the heart of the action at all times. Bike patrol allows officers to patrol more effectively and increase their situational awareness. It also enables better crowd management during school events, and greater enforcement of bicycle safety and overall pedestrian safety.

Special Events
At American Bike Patrol Services, we offer bike rentals to fit your department's needs. If your department needs additional patrol bikes for event security or any other reason, we have you covered! Bike patrol offers the perfect solution for monitoring and securing any variety of large events. For crowd management and control, bike patrol is an effective option. Properly trained bike patrol officers can be invaluable for crowd management, keeping situations calm, and ensuring the safety of everyone. For concerts, sporting events, political events, or any other large gathering, consider bike patrol — and for knowledgable training for your department, contact us at American Bike Patrol Services.
Let American Bike Patrol Services Train and Outfit Your Department
Bike patrol has a long and storied history in American policing and security. We are proud to continue this legacy and offer top-quality training, maintenance, and service to those in the Southern California area and far beyond. The knowledge that comes from our 20+ years of experience and years of product testing ensure your department will get the training and equipment they need to perform at their best. Give us a call today to see how we can help your department!
This section doesn't currently include any content. Add content to this section using the sidebar.