Trikke Mobility Training
Location: On-site/Pre-arranged (equipment items are provided)
Date: TBD
Time: 9:00am to 5:00pm
Requirements: This is a basic skills, riding and safety class. Individuals should be in good physical shape and will preferably have some Trikke experience. Officers are asked to wear comfortable clothing suited for training. Please, no street attire (including slacks, dress shirts or boots).
Description: Students will learn basic Trikke patrol techniques including: mounting and dismounting, emergency stops, slow maneuvering, curb drops, traffic safety, nutrition, basic Trikke maintenance, platform positioning, and other skills. Students will be required to meet the riding skills test and pass a written examination after the training is completed.
Equipment: American Bike Patrol Service will provide the students with testing material, gloves, water bottles, and a cinch backpack to keep. Due to hygiene concerns, new patrol helmets are available for students at a reduced cost for your department. Use of personal equipment is the sole responsibility of the officer. All equipment will meet A.N.S.I. requirements as mandated by U.S. safety standards.
Materials: All materials required for the course will be provided. This includes reference and testing materials, certificate of completion, officers' evaluations, and scores.
---
Note: Although this course follows the outline of a basic Trikke safety course and has been modified to adapt to law enforcement patrol applications, it is strictly an instructional and safety course taught by factory trained and certified instructors. If your department requires or allows the use of special equipment, please call us with your requests, and we will modify the course curriculum as needed.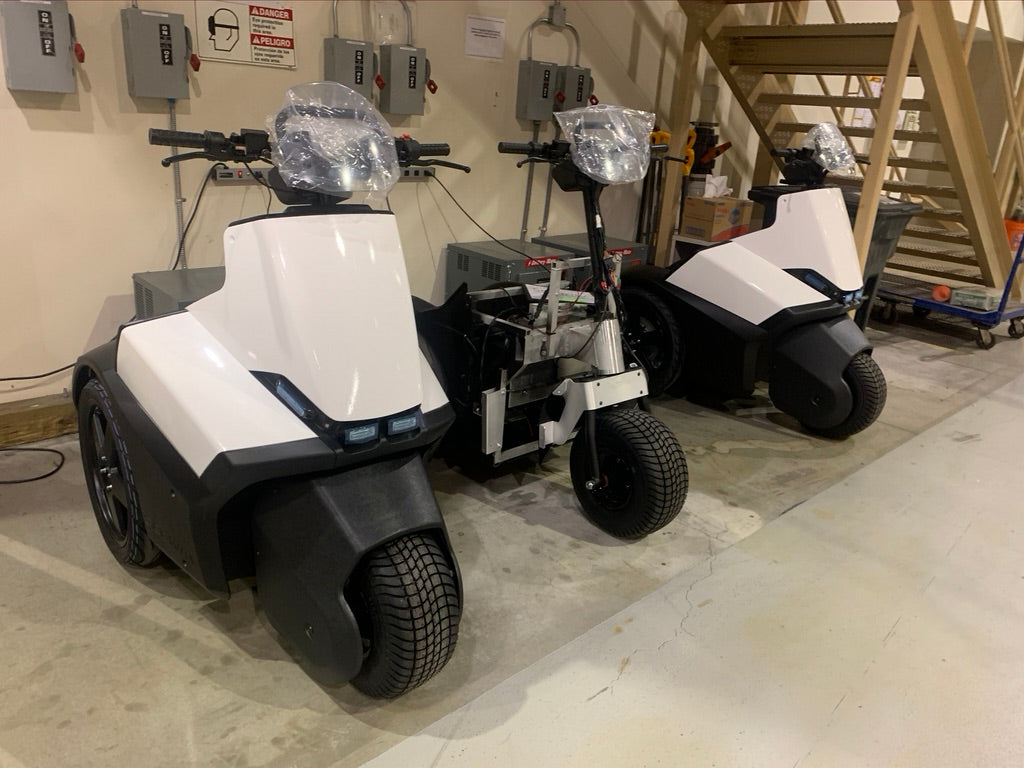 COURSE OUTLINE
Introduction
Course Briefing, Intro & Background
Class Objectives and Overview
Pre-Testing and Materials Intro
Training
Riding Techniques, Platform Positioning, Weight Distribution
Operating Limits, Speed Warnings, Safety Shutdown
Power, Moving, Turning, Braking, Securing/Brake
Cone patterns, Formation Riding, Obstacles
Patrol Techniques
Slow Riding, Slow Turns, Static Turns
Descending Steps/Curbs and Ascending Stairs
Emergency Braking/Offset Curbs,
Mounting and Dismounting Techniques/ Control
Safety on the road, Parking Lots, Curb Hops
Course Overview
Riding Remediation/Practical Testing
Written Testing and Patrol Policies
Evaluations/Certifications
Maintenance & Repairs
American Bike Patrol Service provides on-site, 24/7, full-service maintenance for Trikke mobility vehicles. Our services range from the simplest adjustment or tune-up to complete overhauls. Pick-up, delivery, and on-site repair service is available within the L.A. metropolitan area and surrounding counties. All our technicians are Trikke factory trained.

Call (800) 488-9690 or email us at any time for pricing or to schedule an on-site or pick-up/delivery service.